Introducing our Pet of the Month for November 2017!!
Winnifred
 

Meet the agonisingly beautiful Winnifred!

Winnifred is a gorgeous chocolate Curly Coated Retriever who is a little uncomfortable with her dashing good looks and her now celebrity status as Concord Veterinary Hospital's November 2017 Pet Of The Month! However she is happy to finally receive the recognition that her older sister, the equally beautiful "Roly", who featured as our Pet Of The Month in October 2013.

Don't let those beautiful eyes fool you – whilst she is incredibly loving and gentle (she shares her home with Mum, Dad and two human sisters!) she also can get up to some mischief and has occasionally been a frequent flyer at Concord Vet!

This photo was taken earlier this year when we had to surgically remove a grass seed from quite deep under her skin near her chest. Grass seeds have been know to migrate all over animals bodies, and there have even been reports of grass seeds making their way into the spinal canal of dogs.

Luckily – with fantastic owners – and the skill of our surgeons – we caught this one before it migrated further and did any long term damage.

We love you Winnifred and always love seeing you at Concord Veterinary Hospital 🙂
---
Introducing our Pet of the Month for November 2015
Moses
From the Who's Who of Cats: 6-year-old Moses allows his brother Albert and sister Molly to share his house, and has two servants (Valerie & John) to tend to his every need. He made quite an impression in April, when he underwent major surgery, and had everyone at the Hospital involved in his treatment and recovery. Moses' hobbies are eating, sleeping, annoying Albert and demanding pats and cuddles. Prefers to be known as Moses the Magnificent.

Moses came to us from the RSPCA  six years ago as a tiny kitten who we could hold on the palm of one hand. We don't know his parentage but he definitely has a good dose of Maine Coon in him, among other things. He joined Gus (cross between a miniature Jack Russell and a Fox Terrorist), Woody (British Blue) and Winston (part Chinchilla), all of whom are sadly no longer with us, having been succeeded by Molly and Albert (adorable moggies). He grew quickly, and it now takes two strong arms to hold him. Weighing in at over five kilos and a metre in length, he makes his presence known wherever he is. In April we noticed he was off his food, which was most unusual for him. After a bit of to-ing and fro-ing, Dr David discovered a HUGE clump of matted hair in his intestine – more than just a furball, it had been growing for quite a while because unlike many cats Moses was not a big drinker – he rarely drank water and never drank milk or cream. He underwent emergency surgery, and if it hadn't been for Dr Dave coming in at 4am one morning to check on him we might have lost our little(!) guy.

As it happened, Dr Dave pulled him through and everyone at the hospital rallied round and took turns to help with his treatment and recovery. It was a magnificent effort for which we will be forever grateful. He made a great hit, and last month when we brought him in for his annual injection the comment was "Oh! It's that Moses".

Moses is recovering well, and with a bit of attention to his diet and a lot of love, he is getting back to his old self. He is "watered" twice daily, and even comes when called to get it, but that is probably more because he knows he will have one of his favourite things afterwards – a good brushing, which he adores! The brushing and the water help to keep down the amount of fur getting into his system (he is always grooming himself) and will prevent another monster furball from developing.
---
Introducing our Pet of the Month for September…
Jingle
Introducing our pet of the month for September – Jingle Borg! Have a look at the x-ray pictures of when Jingle came to us when she swallowed a pipe cleaner!! She was quickly referred off to SASH where most of the pipe cleaner was removed, while the remaining passed through.

JINGLE the Labradoodle

Jingle is a cheeky and VERY hairy chocolate labradoodle. Even though her name is Jingle, we affectionately call her BIG hairy BEAR!

Jingle is an energetic 6 month old pup who just loves exploring and looking for exciting things to do! She is such a wonderful explorer, that one day while the family was away at work and school, Jingle found a pipe cleaner from the children's craft box and ate it – in one gulp!

Jingle is an affectionate pup, who just loves attention and learning new things – like jumping through a hula hoop and riding a skateboard! But her favourite thing to do is go for a long run, watch her favourite show (Denise the Menace) on the IPad and then curl up on her mat and have a long snooze :0)
---
Introducing our Pet of the Month for August…
Ambrose
Introducing our pet of the month for August – Ambrose!
There is so much to say about Ambrose, our big beautiful brown Burmese boy. Partly because we have lots of stories due to his age but mostly because he was our Amazing Ambrose. I have to say "was" as before this piece was finished he passed away, aged 18 years and 9 months.
He had been cared for by us, David, Rebecca and the lovely team at Concord Vet Hospital for 21 and a half months after we were advised by a specialist hospital in October 2012 that he only had a maximum of a few months to live. Thank you to you all! We can't express how much we appreciated your help and advice. He was a much loved family member and will never be forgotten. Ambrose was big brother to cat brothers Harry, nearly 17 and Jasper, 18 and a half and to dog sister Poppy nearly 7.
From the moment he came home he was a gentle, loving, calm, affectionate, strong presence in the family. He was able to put a puppy in place in his younger days without violence, by taking what we called his "Spanish bull" stance and lots of bluff.
The breeders gave us a poem called "A Burmese on my shoulder". And sure enough, in his early years he loved nothing more than jumping up and perching himself on a shoulder, no matter what we were doing at the time.
He was a gentle soul. He was often found mesmerised by observing ants and would give loving head butts to anyone who was interested. Have a look at the photo of him quietly observing a large blue tongue lizard which strayed in front of him. He simply sat and stared at it!
Ambrose was always an Indoors cat but also spent a lot of time outside in his cat run by going through a cat flap into a walkway up the side garden and into an enclosed area we call the "cat mahal".
Before we had a cat run he used to go outside on a leash. You can see the photo of Ambrose on a leash, aged two. The breeder submitted the photo as he looked so cute. Needless to say we were chuffed that our boy was a model.
He didn't have a lot of energy recently but was well groomed thanks to the efforts of little sister Poppy who happens to be a French bulldog with an enormous tongue and a generous personality.
Until his recent setback Ambrose had been loving winter, hanging out with the family, following the sun on the bay window and making sure the gas heater was on. Air con was a good standby but no match to staring into the fake gas flames and jostling for prime position like sausages in a frypan! When we were eating his favourite foods he used to perch on the back of the lounge staring at us so we remembered to share.
Our heartfelt thanks again go to David, Rebecca and all of the team for helping us to make Ambrose's life happy and as well as possible.
Lyn and Graham
Smudge
My name is Smudge. I am eight months old and I am a shmoodle. That means I have some shih tzu and some Maltese and some poodle in me. I was born on a beautiful farm near Mudgee but I now live at Concord with my family. There is Mum and Dad, Jack the cat and Elektra the cat. I love playing with Jack and Elektra. Jack is an older cat and sometimes he doesn't want to play but Elektra wants to play all the time. I love to jump and run like the wind around our backyard and play with all my toys. My favourite food is barbecued chicken and I also love raw chicken mince – yum! My favourite chewies are beef tendons: I can chew on them for hours and they keep my teeth sparkling white.

Eight weeks ago on a Saturday morning I was playing in the backyard with mum. She picked up a ball to throw for me but I couldn't wait and I jumped up for it. I missed it and fell and broke my leg. It was terrible. It was so painful but mum and dad took me to Concord Vet and they gave me something for the pain and then I had to go to SASH for some surgery. Because of my surgery I have had to be kept quiet and confined, so for the last eight weeks I have been spending each weekday at Concord Vet in "vet day care" and I have really loved it. All the nurses and doctors have been so good to me and have been giving me lots of love and attention each day until mum and dad collect me in the evening.  I get to see all the dogs and cats that come in to Concord Vet and I tell them what a great place it is! Mum and Dad were very pleased that I was being looked after so well – the doctors and nurses always checked my leg and made sure it was healing well. They were always able to reassure Mum and Dad that I was doing fine.

Last week I was able to have the pins taken out of my leg and now I'm as good as new.

Next week I can start going back to work with mum. She works at Trinity Grammar School (that's Dr Dave's old school!) for the Head Master and he has a poodle called Oscar. Oscar and I play together and I also get to talk to all the teachers and students. I love it because I get lots and lots of belly rubs. I even have my own ID tag! It's a big day for a little dog but it's great fun. I'm a very happy puppy.
---
Introducing our Pet of the Month for March 2014…..
Yin Yang
Meet our 5 year old Yin Yang aka Yinny as he is referred to by Dr David Hughes and the great team at Concord Veterinary Hospital (CVH). I love his bi-colour markings and because of them he is known as 'tuxedo cat'. He looks like a 'smart dressed boy' and lives like a prince in our home and we often laugh about his behaviours calling him our 'private school cat'.
Yin Yang reminds us everyday how much joy our pets bring to our lives.  We can't wait to get home of an evening to spend it with our special little mate and he has been the reason for holidays cut short because we missed him so much! I'll say outright that while Yin Yang had me unconditionally from 'hello' he turns it on for my husband Leon. He clearly loves him the most and he will grab every opportunity to snuggle all over him.  If he can't find Leon he will resort to finding one of his worn T-shirts to snuggle into.
Meanwhile our Yin Yang reluctantly shares our home with two other gorgeous cats.  Ned, the tabby boy adopted us and it's a long story but in a nutshell he wasn't going to go anywhere else so we have had to make some compromises in the household because they don't really like each other.  We work around it by giving them separate runs of the house. Yin Yang has a morning ritual of waking us at the 'crack of dawn' and clearly vocalises 'out' and waits to go outside because he clearly prefers the garden to his litter box.  He loves our native garden and is the cleanest smelling cat I've ever met probably because he loves our lemon myrtle tree.
Yin Yang's tabby mum arrived with this little tot in tow at our back door when he was no more than 8 – 10 weeks and chose our home as their 'safe haven'.  We had many questions but the foremost question was 'would our lifestyle be suitable for this little one?'  One way or another we were going to ensure he had a safe home and deciding to adopt him changed our priorities hugely.
After his initial de-sexing and micro-chipping visit I think my expectation was that there would just be routine visits for vaccinations and health check but that was not the case and there were some unscheduled visits including needing stitches and some minor digestive issues.
We then noticed that he was frequently crouching down and 'wheezing'.  At first I thought it was 'hairballs' and raced around buying various foods and 'remedies' but it persisted.  We had a few visits to various vets and some prescribed 'flu medication' as a precaution. The frequency and severity of this wheezing continued and we were fortunate to meet Dr David who diagnosed Asthma. So the daily routine of ventolin and steroids being administered by a special feline puffer began.
While, we had made great progress towards him being an indoor cat, one afternoon he seized an opportunity to head outside and within minutes was involved in a huge catfight.  We learned the hard way how serious and life threating catfight injuries can be.  He had nasty puncture wounds and abscesses.  I'd never seen a Penrose drain before and it along with all the wounds was confronting.  We felt like neglectful parents and sourced a fabulous harness and taught him to go on walks / roams with us by his side.
Months went by after his injury and we noticed that his fur wasn't growing back and one day we noticed that his black fur had a distinct 'reddish/copper' tint and was very coarse.  My husband Leon deduced that it must be linked to his asthma medication and David referred him to the specialists at SASH (Small Animal Specialist Hospital) and they called him 'the colour changing cat'. Tests discovered that he had Iatrogenic Cushing's Syndrome, which is rare in cats and most likely caused by him absorbing too much of the corticosteroid administered for his asthma.  David worked with us to reduce his daily dosage levels and within no time his fur returned to 'normal'.
So as you can see our Yin Yang has had plenty of opportunity to visit CVH including holidays there and we are fortunate to have such a wonderful team looking after our boy.
---
Introducing our Pet of the Month for December 2013 ….
Dougall
Dougall is a 9 year old chocolate Labrador and has been in our family all of his life along with his 12 year old brother Wallace, who is a blind golden Labrador.
Dougall has always been very active and his favourite pastime is most definitely chasing & returning balls which he would do until almost collapsing unless we stopped and made him rest.
About 2 years ago a lump started growing on Dougall's left hind leg which Dr David biopsied. The results were inconclusive and as Dougall was not affected at all and did not have any pain we decided on no surgical intervention at that time.
However this year the lump started to grow very rapidly with his skin breaking down and he started to show signs of discomfort so Dr David sent us to the Small Animal Specialist Hospital at Ryde and the decision was made to amputate Dougall's leg as the benign tumour would be too complicated to remove on its own without problems.
After 4 days at SASH and much fretting by all of us, Dougall returned home where he has amazed us all with his swift recovery.
Although he spends more time resting than before (keeping Wallace company!) he can do all the things he did before. He is so good at running that when we are out and he returns from fetching the ball some people only then realize he has 3 legs!
Dougall is very much loved and an important part of our family and our daughters, Lucy 8 and Lily 6, are always boasting about him to their friends about how brave and wonderful he is. This is part of a story they wrote about him "..he is a very good dog and he likes to snore when he sleeps….Dougall can run very fast. He likes to chase balls. Dougall also likes eating food and resting."
Thankyou to everyone at Concord Veterinary Hospital who has looked after Dougall & Wallace since they were puppies.
Introducing our Pet of the Month for November 2013….
Heidi
Heidi is our Pet of the Month for November! She is a lovely, cuddly rabbit – and comes and sees us twice a week for her antibiotic injections. We always love seeing Heidi – and she is a very good girl for her injections! Read her story below!
We found Heidi hopping around in our backyard in July 2007. She was only small and very cute. We put her in a birdcage and gave her some food, then took a picture of her and put up notices at the local shops to find her owners. Since no-one responded to our ads we kept her and at the same time became very attached to her. Heidi grew very fast into a big and very good natured rabbit. We are keeping her inside in a large cage, but let her out to run around the living room every few days to give her some exercise.
Two years ago we noticed Heidi was making a rattling sound when she was breathing. We took her to Dr David Hughes at Concord Veterinary Hospital who recommended we take her to Dr David Vella, a rabbit specialist, at the Animal Referral Hospital in Homebush. Dr Vella diagnosed her with a lung infection and told us she needed a daily injection of Propercillin – a type of antibiotic, and that they would show us how to do it. I couldn't bring myself to stick a needle in Heidi, but my husband volunteered.
At first everything went well until one day Heidi had a very bad reaction immediately after my husband had given her the injection. We thought we were going to lose her but she settled down after a few minutes. We informed Dr Vella who said we must have hit a blood vessel and that this was very unlikely to occur again.
Well, two days later it did and we decided we needed some help. We asked Dr David at Concord Veterinary Hospital for their assistance and they very kindly offered to help us out. At our last checkup with Dr Vella we were advised that Heidi would need two injections a week for life. We are extremely grateful to David, Rebecca and all the staff at Concord Veterinary Hospital for helping us keep Heidi happy and alive!
---
Introducing our Pet of the Month for October 2013…..
Roly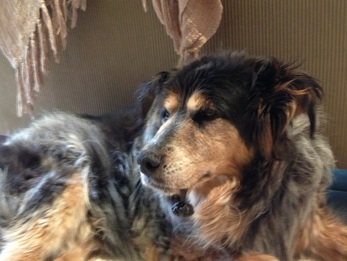 Roly was a nine month old Cattle / Border Collie bought from the RSPCA in 1996. We were so excited to bring her to Concord West & share our home with her. At first she was too shy and timid to walk around the neighbourhood, she only wanted to curl up on a chair. We persevered with walking & before long she knew all the best places to visit. The foreshore walk attached to the Walker Estates has been a favourite as well as the ovals at Powells Creek. She also enjoyed visiting her 'grand pets' who lived in Lane Cove near the bush. Over the years she has been a well behaved dog, a bit crazy at times but never a 'digger' or a 'washing puller'. She used to play with the dog next door through the doggie door in the fence. One particular day Roly disgraced herself by heading into their house, climbing up onto the kitchen table & helping herself to a box of chocolates, wrappers & all. The connecting doggie door was out of action for a few days after that.
Chicken & bacon are her preferred choice of dinners but she doesn't always get those. Lately as she eats her dinner she has taken on the nasty habit of barking at the bowl, we are not sure if she is trying to scare the birds away who like to have a go at her dinner or if she is telling us she doens't like what is in the bowl. Eventually she eats up all her dinner, often looking for more.
Roly has always enjoyed the company of other dogs but as she gets on in years she seems to be outliving all her pet friends. Roly now spends most of her time dreaming of the walks & adventures she has enjoyed, she still likes to think she can walk but once she gets to the end of the driveway her back legs can't do what her mind wants to. So it's back to her favourite sleeping bed. She is also rather deaf so fireworks & thunderstorms no longer bother her.
Looking after an old dog has its dilemmas but it is well worth it for the joy she has brought and continues to bring our family. We are grateful to the care she receives from David & his team. Her records go back to when the vet used to be located on Concord Road. I think Roly wonders how many other premises she will visit before her days are done!
As a family we often look at the RSPCA site for another dog but we never seem to be able to find one just like Roly so until then we will hope she keeps going pain free & happy. Now if only David & his team could clone her!!!!
Introducing our Pet of the Month for September 2013…..
Max
Maxie came into our lives when one of our other cats Buzzy was sick with a food allergy and we spent a lot of time going back and forth to see Alice to get a diagnosis. One day we stopped in to pick up some more medication (without Buzzy) and there was this cute but slightly older 12-16 week old kitten, who had very similar markings to our other cat, Rosie. He was adorable and we couldn't resist. We took him home that night and our lives have never been the same.
Maxie loves being the baby of our family. He loves the attention, he loves being the boss – even though he is the smallest living thing in our house, our entire household revolves around him.
He is a 'free-spirit'. Unlike our other cats, who are home-bodies, Maxie likes to check out what's happening all over our neighbourhood. We like to call him the 'street police' as he spends a lot of time out the front on top of our cars like a police siren, ensuring that anyone who enters the street has the proper security clearance and permits!
Until about a year ago, when we had a house fire, he spent the previous 7 years locked inside overnight. Every night he would come in for dinner and stay in for the night. Every night he would cry and whinge and scratch and meow and wee (if necessary to attract attention) to go out. He ruined several doors by constantly scratching at them, chipping away the wood. Luckily for him, after the fire we had to keep the house open to get rid of the smell and he got what he's always wanted: the freedom to supervise the neighbourhood overnight. Once he'd had a taste of the nightlife, we've never been able to lock him in again.
Maxie loves prawns! The first time we ever brought prawns into the house after we got him, he clawed his way up our jeans to get to where the shelling was taking place and he's loved them ever since. Because they're his weakness, we trained him to come home for prawns as when he was younger, he used to stray far and wide, scaring us every time he crossed a road or didn't come when he was called. We spent a lot of time shaking the crunchy packet (much to the distress of our neighbours) to get him to come home. Eventually we realised we'd win the battle with bribes! He loves fresh ones but is also very satisfied with frozen ones that have been warmed in hot water and broken into smaller pieces by hand. We spend a small fortune to keep him fed, but between prawns and crunchies, his diet is permanently set. He still gets just as excited as that very first time, each and every day we deliver his food plate.
In 2009, we went overseas and while we were gone Maxie went missing. Seeing as our only calls home were to check on the cats, it was very distressing to find out he'd disappeared. We cried the whole way through Disneyland and Universal Studios, all the while, contemplating changing our flights to come home early. We weren't able to and just hoped that he'd hear us when we got home and come running back into our lives. He didn't. He was missing for over 7 weeks and randomly came home at 4am one Sunday morning. I personally had had a big night out on the Saturday and walked home rather loudly through the streets and like to believe that maybe he heard me and decided it was time to put us out of our misery, although really we still have no idea where he was, or how he made it home. Even though he'd looked after himself – his fur was perfect and feet only a little more worn than usual – he had lost a lot of weight; I felt he was only vital organs and fur. We vowed that we would never be able to leave him again without 1 of us being home and never have.
The experience of being missing did seem to have some impact on him however, as even though he was always a very affectionate cat, he became more so, and tended to roam a little less. All was good in the world, our baby had returned and our lives went back to normal, until 2011 when Buzzy became sick with pericardial lymphoma. It was a shock to everyone especially as it's quite rare. He was treated with chemo at SASH but eventually had to be put to sleep. Maxie loved Buzzy! If Buzzy was asleep at the end of my bed, Maxie was right there next to him. If Buzzy was out in the garden, Maxie was out there too. We're not a 100% sure how Buzzy felt about Maxie stalking him, however he was such a good big brother to Maxie. He 'play fought' with him, let him sit on him/next to him/cuddled up to him and spent hours licking Maxie's long fur, even though Maxie would selfishly only do a few brief licks on Buzzy's short fur. Even though Maxie knew Buzzy was sick, he loved him right until the very end, sitting outside next to Buzzy but giving him the space he needed. And I'm sure that everytime Maxie jumps on the end of my bed he still looks around for Buzz, wondering where he is and why he's not there.
As they say in the classics, life goes on. And it has. It took time but we've adjusted to being a 2 cat family. But earlier this year Maxie got sick. He lost a lot of weight and his personality changed a bit. We took him to David, who found he had a high temperature and kept him overnight to observe him. He had to refer him to SASH, where they operated and found that Maxie had peritonitis. We couldn't believe that another one of our cats had something rare! It was quite embarrassing on the morning they were to operate, I had to rush to SASH to see him/hug/kiss/cry on him before he went in, I had to call Mum and put her on speaker phone for her to speak to him too!!
Luckily, due to David's diligence in referring him and the great work of the vets at SASH, his operation was successful and Maxie is back to his old ways!! After a few more injuries and short stays at Concord our baby has resumed his position as the street police and is once again patrolling our neighbourhood. He is a very special feline and will always hold the key to our hearts.
---
Introducing our Pet of the Month for August 2013….
Jess
Jess is a 5 year old Maltese who shares her life with her (big!) brother Max, Brett and Sarah. She is a gentle little girl – doesn't love coming to the vet – but is always well behaved for all the poking and prodding.
Jess has had a lot of poking and prodding in her 5 years! In 2012 Jess was diagnosed with Addison's disease – a disease where the body does not produce enough cortisone (vital for living!) and left untreated can lead to severe illness and death. Thanks to the commitment of Brett and Sarah, Jess is going strong on twice daily medication – which she will need to be on for the rest of her life.
Jess LOVES chicken – raw or cooked – and (lean) ham! Her favourite activity is getting a tummy rub, and going on day trips to Grandma's house. Her favourite toy is a soft toy rat – but don't let her small size deceive you! She can pack a punch – her (twice her size) brother knows that Jess is the boss. But when all is said and done, Jess won't sleep unless she is curled up, and sometimes on top of, her big brother!!
---
Introducing our pet of the month for July 2013…..
Houdini
Hi! My name is Houdini, Houdi for short! I was born a stray in Campsie, in November 2003, after my Mum was dumped.
My three siblings and I were not socialized at all and feared humans as we had only known unfriendliness. We had been chased by boys on bikes; hosed to get out of a backyard and one Sunday being so hungry, we couldn't resist the smell a roast so we climbed the screen door and meowed out for food. Margaret a volunteer for WLPA was informed of these events and set the traps.
I will never forget the fright I experienced when trapped at 9 weeks of age. My siblings and I were kept caged for 1 week until our foster carer, now my official servant took us on.
We would scurry under the bed every time the bedroom door was opened. In one week our carer could take off her gloves and pat us with her bare hands; I still have a problem trusting anyone else but her.
Once we knew we were safe, we had such fun playing and got into all sorts of mischief. That was the best time of my life; playing together with my siblings, and for once we felt loved and secure with a human. Just one time, we even unrolled all the toilet paper.
Two of my siblings found homes but there was only myself and Junior, my grey tabby brother left. WLPA found a home for us both but my servant did not believe a typical family home would have been suitable for me. My servant was afraid of me, being the escape artist I am, hence given name, escaping to try and return back to her!
Four months had passed and a single woman dropped by one day to adopt. When she observed my brother and I happily playing in the backyard she said, 'I could not provide what these cats have here and I live near a busy road; can't you keep?'
My servant decided there and then to keep us. I still live with my brother and 3 other rescue cats. I repeatedly hear my servant talking to herself saying 'No more cats!'
I was diagnosed with renal failure in January 2013 and my servant attends to me even more so which I don't mind.
Today I was served chicken broth in bed; have to keep the fluids up. I have my good days when I play like a kitten and not so good when I sleep a lot, but in general, much better since the change in diet.
I would like to thank Dr. David and his Staff at Concord Vets for their excellent care of me….humbled that Dr. Rebecca has chosen me as a Pet of the Month after the pedigrees. My servant has told me that I'm as good as any pedigree and has found it so rewarding to socialize and adopt such a gorgeous boy like me!
---
Introducing our pet of the month for June 2013…..
Jedda
'Jedda' is a 13 year old Labrador – she shares her life with her family of 5 – Nick, Justine, Zoe, Isaac and her brother 'Monty'.
'Jedda' unfortunately has a disease where she keeps getting growths under her skin – called Mast Cell Tumours. She has had two marathon surgeries to remove over 20 lumps and bumps, and she is on a fancy new chemotherapy drug called Palladia to help slow down the growth of these cancers. Unfortunately, the lumps and bumps keep coming, but 'Jedda' takes it all in her stride and she acts more like a 13 month old.
She is always so happy, her tail is constantly wagging, and she is always quick to sit for a treat. She has fought her illness so bravely – and you can literally see her smiling when she is getting a pat or a treat!
Things 'Jedda' loves…beating up on her brother, chasing the ball and bringing it back if you're lucky, hanging around the kids to see if they drop anything to eat, playing in the water – any kind of water from beach to water bowl!
She especially enjoys proving yet again that the veggie patch is NOT Labrador proof and showing her brother the way!
'Jedda's' favourite food…anything!! She's a Labrador with no 'off switch'!
---
Introducing our pet of the month for May 2013 …..
Tara "The Princess" Bradley
Hello, my name is Tara "The Princess" Bradley. I am a 12 years young Cavalier King Charles Spaniel. I was born 'Flash Duchess' but prefer to be called  'Tara'. Let me tell you a little bit about myself!
My Family: My
mummy Janelle and feline sister Tinkerbell who was adopted from the Cat Protection
Society.
My favourite food: Warm steamed chicken breast.
My favourite clothes: My winter outfit – a purple fleecy hoodie which is regal, stylish yet oh so cool and cute.
My favourite outing: Anything as long as I'm with Mummy. I do love strolling along the Balmoral promenade then chillaxing under a fig tree – fresh air, exercise and lots of admirers.
My favourite relaxation: Snoozing on Mummy's lap and guarding my food from that sister of mine.
My doctor: Uncle David, ably assisted by his harem.
---
If you would like your pet to be featured as our pet of the month, please contact us via our
submission page
.